Amazon Seller KPIs
KPIs: What Are They? Why Are they Useful?
Key Performance Indicators, better known as KPIs, are defined as a quantifiable measure that you will use to determine how well your company is performing in different aspects of the business in comparison to the goals you have set.
KPIs can measure just about anything. For you as an Amazon seller, there are more than a few KPIs you should be tracking on since the success of your business depends on you identifying them and paying careful attention to what they are telling you.
10 Amazon Seller Analytics You Should be Tracking
#1 – Inventory
You most likely have an expected sales velocity, either weekly or monthly. Your available stock is one of the KPIs you should definitely be tracking, and a few things affect this. One being seasonality, which can increase the demand of your product 2-3 times (or more!) compared to your average velocity, during those high seasons.
Since sales will spike seasonally, you will need to look at historical data to gain some vital insights on what to expect if this is your first go-around.
While this isn't technically a tangible KPI, it is an important practice to understand that can affect your bottom line. When you have your products shipped to Amazon's warehouse, if they aren't labeled properly, your inventory gets pooled with other sellers' inventory and what you sell might actually come from another seller. If they are shipping inferior products or knockoffs, your buyers might give you negative feedback or file A-to-z claims against you.
By simply having your supplier add a label to each unit (suppliers usually do this for you for free) you are avoiding having your good authentic products being mixed up with other people's not so quality variations of the same.
#2 – Aging Inventory

There is a report in seller central where you can pull seller ASINs, to see how many products you had in stock during a specific timeframe. This will help you make more accurate predictions when ordering inventory, as you need to avoid inventory sitting in Amazon's warehouse for too long. After 6 months you will begin to incur Long-Term Storage Fees, (LTSF).
Long-Term Storage Fees
Being an FBA seller is a great setup for most, but keep in mind, Amazon is going to make money on you, whether you are successfully selling or not. You will either be paying commissions & fees on the products you ARE selling, or, you will pay fees on the products you AREN'T selling (those inventory items that are sitting in storage for 6 months or more).
Long-term storage fees will increase over time. You won't incur these until your inventory ages 6 months, but even worse, you'll get slapped with more fees after 12 months.
#3 – Order Fulfillment and Shipping
As an FBA seller you are required to use Amazon's shipping material. Since this is a cost you will incur, be sure to factor it into your pricing strategy as it most definitely affects your bottom line.
#4 – Customer Performance Metrics
As Profit Sourcery accurately describes it, "Amazon has built its success on being entirely customer focused – constantly striving to provide the highest customer satisfaction. In turn Amazon set high standards which all sellers need to meet through their 'customer metrics'. The customer metrics are used by Amazon to measure the performance of each seller."
Returns
Your listing will get shut down if you exceed a certain return rate. Amazon thinks of it as, "If X% of people don't like your product, your product (or you) don't belong on my platform." By monitoring your return rate you can learn what the issues were with those items by looking at corresponding reports and/or reaching out to customers.
You can learn what was wrong by assessing their feedback and addressing these issues with the supplier to fix the issues. Doing so will reduce return rates and thus save that ASIN from destruction.
Non-Returns
Keep an eye on this. This is the number of refunds 45 days ago and greater, where the unit(s) were not returned. This metric will point out customers who, intentionally or not, owe you money, and should be mentioned to Amazon via a support ticket for your own reimbursement.
This loophole needs to be checked up on, since Amazon issues an instant refund for many customers, yet allows the customer 45 days to send the product back to the warehouse. If they don't return it in that timeframe, Amazon should automatically re-bill them on your behalf… but that process is less consistent in reality than on paper. The merchant should also get a reimbursement from Amazon if the unit isn't returned within the appropriate timeframe.
Amazon operates with the mindset of 'The Customer is Always Right'. In theory this is great, but the downside is that sometimes the product is never sent back, which is a double loss to you as the seller.
Amazon holds its customers accountable, why shouldn't you?
#5 – Ratings and Reviews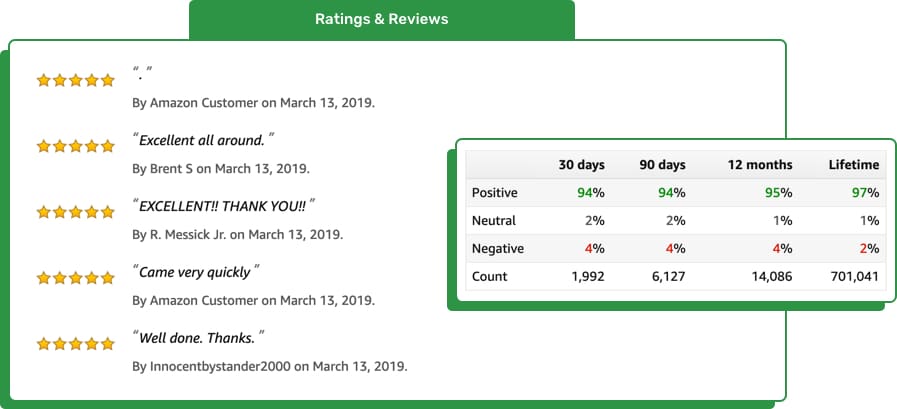 The only social proof that a potential customer has while looking at your product is the number of quality reviews you have. There is no other way for a potential buyer to see if other people are buying the product.
Ratings and reviews are something you want to monitor and make sure you are moving in the right direction daily. Tend to them, reply to bad reviews, ask them to reach out to your customer service.
This is reputation management. Unfortunately, you can't ask someone to change their negative review, but you can take care of your customers. Often times when you take care of them nicely they will update their reviews, but you can't ask them to update their review.
By watching your ratings and reviews you see what your potential customers are seeing and reading about your products.
#6 – Conversion Rates
Amazon is a great place, tons of traffic and zillions of customers. They make money when things sell, and when products don't sell, they don't love it.
Amazon wants to promote highly converting products, rank them higher, and even place ads on Facebook and other places for free for you.
Your conversion rate is a vital Amazon KPI. If you aren't converting well, why would Amazon bother to give you precious screen real estate? They will end up ranking someone over you who converts higher than you. This is not the only KPI that Amazon monitors, but it's forgotten by most FBA sellers and it's not the easiest thing to grab from Seller Central.
You might ask yourself, "Why is my ranking slipping? I had the same sales today as I did the other day!" One reason for this is that your sessions may have gone up but you're still selling the same amount of sales. This is a big factor for your conversion rate and should be closely monitored.
#7 – Promotions
Sometimes people stick a promotion onto their product listing but before you know it, your inventory could be gone in an hour. While that is great news that you sold out of your product, this directly correlates with your inventory KPI and you should do adequate planning and prep before launching a deal or promotion. Coupon codes going rogue is one thing, but it's also easy to forget how many promotions you have set up.
#8 – Ad Spend
You can have a great product and think you're really doing well. But, if your ads have a high cost per click, and you are paying X amount to sell a unit, you very well could be upside down on the sale.
#9 – Badges
The orange badge is run by Best Seller Rank, BSR. However, achieving this coveted badge isn't where this KPI stops. You also need to keep an eye on your competitor's badges. If they have stolen the title from you, you might want to decrease your product price for a short time in order to ramp up your seller velocity. This drives the price down and makes Amazon more money.
Amazon knows the games that we as sellers play with each other, and they have mastered how to continually make money and keep customers happy.
#10 – Competitor Pricing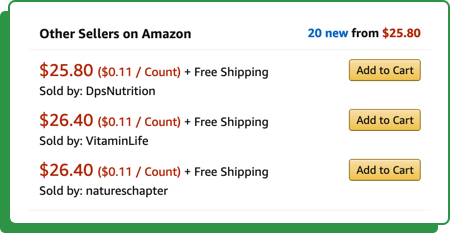 If someone lowers their price, they might push you out of the way. You need to monitor this on a daily basis. If you aren't, competitors will circumvent your tactics.
Additional Seller Analytics
The 10 mentioned above are not the only KPIs we recommend you monitor. You should keep an eye on all of those plus more, such as:
Sales Velocity

Number of Sessions

Keyword Ranking

Buy Box
A Tool to Help Track KPIs
There's a fork in your road here. As a business owner, you have two basic choices regarding how to keep your eye on all your important metrics.
1) You can learn exactly what items need to be tracked, and how to track them efficiently,
OR
2) You can utilize either a person or tool that knows all about those metrics, and can dependably report them to you.
But you wear a ton of hats, and most consultants will tell you that no one can become an expert regarding every single performance area – let alone figure out how to track, report and digest it.  You need to know what's working & what's not; what's optimized and what needs work – all at a glance. If you don't have an expert assistant, or robust toolset to assist you, you have to not only learn what the metrics are to follow but also learn how to collect, compute, interpret and act upon them all.

What the professional Amazon seller really needs to maintain an accurate business pulse, while maintaining sanity, is a toolset that tells you where you're in and out of bounds, in all of the critical areas every day.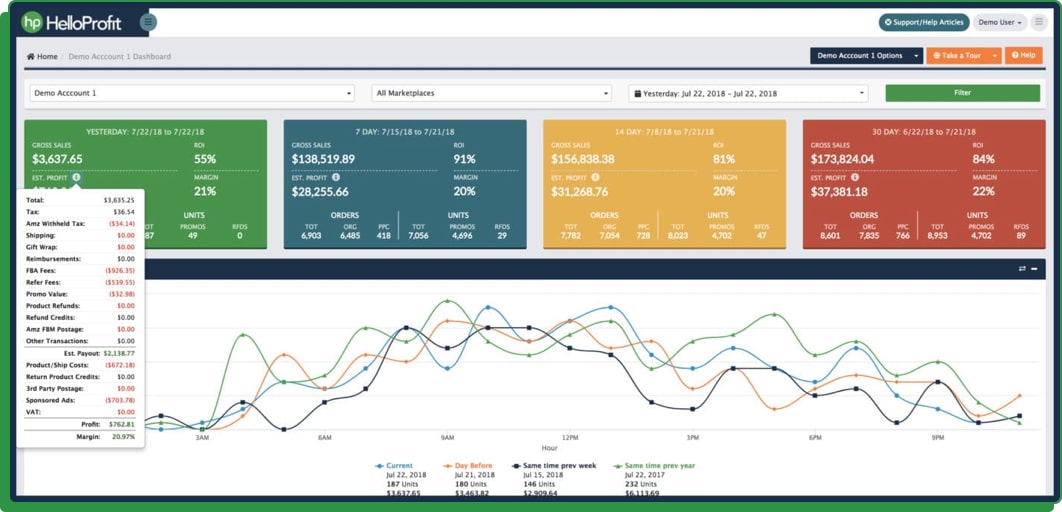 Before a tool like HelloProfit, Amazon FBA sellers would have to keep huge spreadsheets used to pull and track their data daily. They would need to learn the important metrics thoroughly to track and learn how to dig for the specific data.
Yes, it's true that Amazon Seller Central supplies lots of reports, but they're cumbersome in size and unending in number. You'd spend all your days digging through them to find the data you are looking for and compiling what you need to judge your success. But your brand and company would have lost its entrepreneurial mind in the meantime.
Since HelloProfit is able to calculate key metrics without any involvement on your part, you can't afford not to take advantage of it! You're a brand owner, and as brand owners, we need to focus our creative minds primarily on building our brands, not manipulating numbers.HelloProfit was built by actual Amazon FBA sellers just like you, for you. Their original success selling was at first compromised by the poor top-level analytics offered in Seller Central. But all of that is changed now: HelloProfit makes your data shine with brilliant clarity for you, so you can get back to building your brands.
KPIs and the Big Picture
It is important to manage your Amazon business to greater success by knowing the health of your business and looking at the big picture. Since KPIs are subjective and depend a lot on the data you deem vital to successfully run your business, it is crucial that you determine what those KPIs are and have a foolproof way of gathering and monitoring those outputs set in place.
So, whether you choose to monitor those KPIs on your own or invest in a tool to bear the load for you, one thing remains true- Power is in the numbers.