Advertising isn't what it used to be. A generation ago, it was a simple matter of getting your product in front of customers or at least putting customers on notice that your product was on the market. The right combination of print, radio, television, in-person advertisements and product placement could do wonders for your products. Yet this often came at a significant expense.
Today's world of ecommerce allows anyone to start a business and access the perfect audience — but only if they know how to get their product in front of customers. This part of the marketing equation isn't as simple as it used to be. To successfully sell on Amazon, you must embrace some simple Amazon SEO best practices.
This year alone, Amazon is said to have gained more than a million new sellers. Each of them is competing for customer attention. Every single seller is at risk of getting lost amid a pile of competitors without the right SEO strategy. If Amazon has taught us anything, it is that there is an audience for everything.
Put your products in front of the right customer, and they will buy it. The challenge is helping them find it.
And that's a challenge that becomes more and more intractable as time goes on. As an FBA seller, being aware and having a tight grasp on Amazon SEO is the key to Amazon success. Without it, your perfect customer might never even see your product. Let's discuss what you need to know.
How Amazon Search is Different

Entire dissertations have been written on Google's search algorithm. Amazon's A9 is certainly complex (we discuss Amazon's A9 Algorithm in more depth later on), but it's still quite immature compared to Google's search algorithms. Ultimately, success on Amazon comes down to relevance.
This means that boosting Amazon SEO is a lot simpler and a lot less time-consuming than boosting Google SEO. And while competition is stiff — more than one million new sellers this year alone — it pales in comparison to the billions of sites competing for screen time on Google.
This means that success on Amazon is often possible with just a few tweaks. Simple changes to your SEO strategy can yield massive improvements in visibility. To optimize SEO for these two simple factors, you only need a couple of things:
Understand the basics of relevance and performance, as measured by Amazon.

Know which terms consumers are most likely to use when searching for your product.

Be able to measure results.
Measuring results is key here, and it's the missing puzzle piece that many sellers neglect. Some sellers make the fatal mistake of only looking at the big picture — whether or not they're selling and whether or not they're getting sessions — without stopping to assess which specific SEO maneuvers affect these two critical factors.
To succeed on Amazon, you must understand the importance of small shifts in SEO strategy. Strategic keyword research provides the most successful sellers with knowledge of exactly which keywords to use, and have a keen understanding of how changes in these words will affect their profits.
Monitoring your KPIs offers a comprehensive overview of how your SEO strategy is working. Armed with this information, you can test different strategies, tweak your strategy according to the data, and quickly begin seeing greater interest and higher profits.
With more clicks and more interest, you might notice something else, too: it may be possible to raise prices. When you're at the top of search listings, customers may click and add your product to their cart without a second thought. And when you're not buried on page 10 of search results, you don't have to worry about enticing the few customers who see your product with a rock-bottom price.
So let's dig a little deeper. Which Amazon SEO strategies and best practices are most important?
The Importance of a Traffic Grabbing Title
Amazon's A9 relies heavily on product titles. In fact, product titles is one of the most important factor in search relevance. So you must give your product a clear, succinct, descriptive title as well as a captivating product description. So you must give your product a clear, succinct, descriptive title as well as a captivating product description, among other items described below.
Leave out useless adjectives and focus instead on the hallmarks of your product. What will a customer most likely search for? Once results populate, what will make them choose my listing over another? Some important things to include in your title:
Brand

, if the brand is important; off-brand and generic titles generally don't need to include the brand.

Size

, if you are only selling a specific size or the size you sell is hard to find or in demand.

Product type

, such as a sweater or laptop.

More specific product type

. In some categories, it's important to list a very specific product type. For example, a shawl collar cardigan will get more relevant results than just a cardigan.

Color

. Use the most common color terms people search for. Blue is better than cerulean, for example. If the color is unique or a popularly searched color, then include that color name, too. For example, you might describe something as turquoise blue rather than just as blue or turquoise.

Ingredients

. Food, cosmetics, perfume, and similar products may need to include key ingredients, depending on your customer base. A bit of market research can help you decide whether this is important. For example, a vegan beauty product probably needs to list that it is vegan, and a skin serum containing retinol should note this. If the ingredient is not one people often search for, leave it out. Likewise, if your product is free of a specific ingredient, such as sulfates, you may want to note this if your market research indicates doing so can be helpful.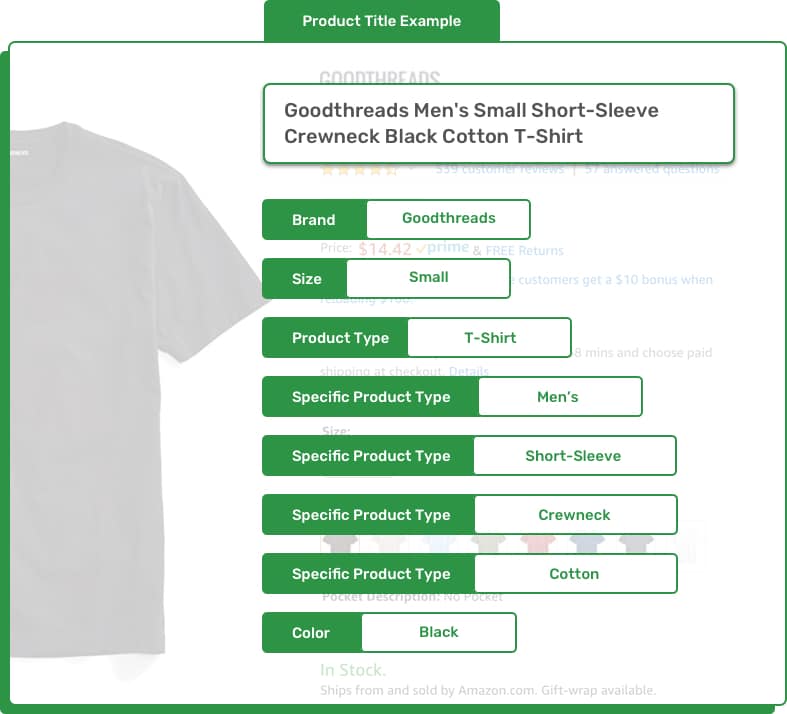 Do Merchant Names Matter?
Some sellers have noticed that their search rankings improve when their merchant name is relevant to their product. You may be able to use this to your advantage, but it's important to proceed with caution. To get the most out of this potential SEO boost:
Try opening different merchant accounts for different products. Beauty products should be sold in a shop with a relevant name, and should be segregated from non-beauty products.

Ensure your shop name is a specific keyword people may associate with your shop. For example, "Cruelty-Free Vegan Beauty" could be a good seller name.

Try using a broad keyword as your shop name.
Avoid the following, which can undermine your efforts:
Don't keyword-stuff your merchant acocunt name. This can confuse customers.

Don't open dozens of shops just to get an SEO boost.
Understanding Backend Keywords
Amazon backend keywords are akin to Google's meta tags. They tell Amazon what your product is or whom it targets. These "hidden" keywords are additional keywords beyond those used in your title and description. You can use this field to include keywords that are secondary to your main keywords, as well as spelling and grammatical variations.
Some tips to keep in mind:
Include spelling variations and common typos. For example, include both lavender and lavendar.

Include grammar variations.

Don't include too many varieties of the same word. Focus on just a few variations.

Amazon ignores commas, so don't include them.

Don't add quotations marks. They won't help, and they will eat into your character count.
Brand Field Considerations
Your brand field gives you an additional SEO boost. Most customers use this to search for items by the same brand. So don't include a string of keywords. Instead, only list the brand. If your product is not by a specific brand or is generic, it's usually wise to leave it blank.
Amazon punishes misleading listings, and customers may report your shop if they feel your listing misleads. So don't attach a brand to your product unless your product is truly made by that company.
Compelling Product Description
Your product description serves two purposes: it reinforces your most important keywords, and it educates consumers about your product. Include keywords in your description, but aim to do so as naturally as possible.
Keyword-stuffing annoys customers and erodes confidence. Instead, consider writing your description first, then going back and adding keywords into the already-written description.
A compelling, accurate description is equally important. This is your chance to sell your product and separate yourself from the competition. Spelling and grammar mistakes matter. They decrease consumer confidence and may harm SEO, too. So put your description through a spell checker. If you are not a strong writer or English is not your first language, consider hiring someone to write your description for you.
To get the most out of your product description, consider the questions customers will have about your product. Include things like:
Size, weight, and dimensions

Materials and manufacturing process

Where your product is made, if relevant

Ingredients

Any key information, such as that your snack contains nuts or that your clothing is flame retardant.
Bullet Points
These are very important for SEO and they are easily scannable. Consider listing top product features, including keywords associated with them, in a bulleted format at the top of your product description since people actually read them more than the description, which is buried much lower on the page.
Enhanced Brand Content
This premium content feature, commonly referred to as the A+ tool, enables brand owners to showcase the unique value proposition of their products through enhanced images and text placements.
Adding EBC to your product detail pages may result in higher conversion rates, increased traffic, and increased sales when used effectively.
Read more about Enhanced Brand Content here.

Why Performance Matters
How your product performs will affect your search rankings. This is why it's so important to construct a compelling and complete product listing from the beginning. Otherwise, you can initiate a vicious cycle of a poorly performing product being continually downgraded. This steadily eats into profits.
It might feel like performance is beyond your control, but a strong SEO strategy based on real data is the single most important factor in your performance. Some other performance metrics that can affect sales include:
Images: Quality images are conversion magnets. Ensure images can be enlarged, and include several product photos for the best conversion rate. Always be sure to follow the style guide.
Customer satisfaction

: Customers rely heavily on reviews. And of course, excellent customer service — including friendliness, a prompt response, fast delivery, and a quality product — are key to inspiring customers to author good reviews.

Price

: Your pricing should be consistent with similar products. If your price is abnormally low or high, your conversion rate may suffer. Utilize the

Amazon FBA Calculator

to determine the ideal price point for your listing.

Conversion rate

: The more viewers who purchase your product, the better. So aim not just to attract clicks, but to attract buyers. Fewer views can be a good thing if more viewers actually make a purchase.
Amazon's A9: A Constantly Evolving Algorithm
Amazon's A9 is an evolving search tool. The search engine is frequently updated, with both minor tweaks and major shifts affecting how listings perform. Many sellers complain that this makes it impossible for their listings to perform consistently.
Amazon continually publishes guides and updates in an attempt to address these concerns. But one of the most important things you can do to respond to changes in A9 is to consistently track your performance. You'll be able to see how changes in SEO affect your products and your performance. That's where HelloProfit comes in. By allowing you to track performance using numerous metrics, you can effortlessly see what works, what doesn't and tweak accordingly.
How HelloProfit Changes the Game
Amazon's seller tools are a good starting point for assessing SEO, but they're not enough. HelloProfit allows you to measure your success in real time, comparing products and even merchant accounts across numerous metrics. Too often, sellers feel overwhelmed by complicated analytic data that demands both programming and mathematical knowledge. We make it easy. No need to take a class or educate yourself on SEO, and track everything manually on your own. Everything is right there for you in one convenient visual.
Here's what we offer:
Free trial to see how you like our product. You'll get 21 days to see how HelloProfit can increase your conversions and revenue.

An all-in-one platform that can track multiple merchants.

Live data updates so you can see how products are performing in real time.

Visualized data you can actually understand.

Unrivaled support. We listen to our community of users, and we believe in our product. If you have a problem, we're here for you. Our job is to help you succeed.
One large key to success on Amazon is SEO. And the key to SEO is the ability to see how your SEO tweaks perform. That's no small feat — that is until HelloProfit entered the game. Let us make selling on Amazon easy, stress-free, and most importantly, profitable.
Ready to give us a try? Check out our 21-day no-obligation trial. Or contact us to learn more!