We're grateful for the feedback and suggestions you've given us on how to fine-tune HelloProfit.
The latest updates we've released give you more control over your data, and display it in a cleaner, aggregated overview in the Product Statistics section. You can drill down even deeper with Smart Search, sort and filter by more criteria, and of course — we've boosted performance and accuracy of data transmitted through Amazon's API.
1. Product Statistics: More Control, More User-Friendly
1.1. Better-Looking Layout
Information displayed in the Product Stats section is now better organized. You can easily skim through the most important statistics for each ASIN, many of which have been combined into one column for more eye-appealing layout. (See screenshots below.)
FBA fees combined into one column
Aggregated costs (products, inbound shipping and ads)
ROI and profit margin combined into one column
Conversion data aggregated into one main 'Sessions' column
…And even more singular data points have been aggregated for a clean, clear overview

One example of a user-friendly update to the Product Stats Table is the aggregated detail added to the Net Profit column.
Before, the net profit for each product had simply been displayed "as-is" showing only net profit. Now, you can see the costs, fees and refunds that are included in your net profit calculation.
That helps you drill down into the details of each ASIN — in a single glance!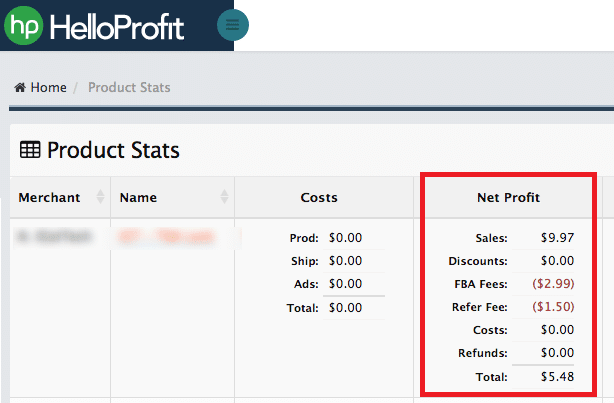 1.2. Sort Multiple Columns Simultaneously
Now you can sort more than one column in the Product Stats table at the same time.
In the upper righthand corner of the Product Stats table, you'll see a little icon to sort columns (in the screenshot below).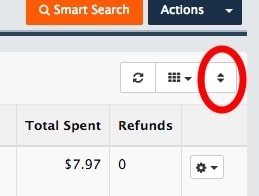 This feature is very convenient if you'd like to analyze your product selection for poor-performing SKUs to kill, for example, by sorting for low net profit and low number of orders in an arbitrary period of time.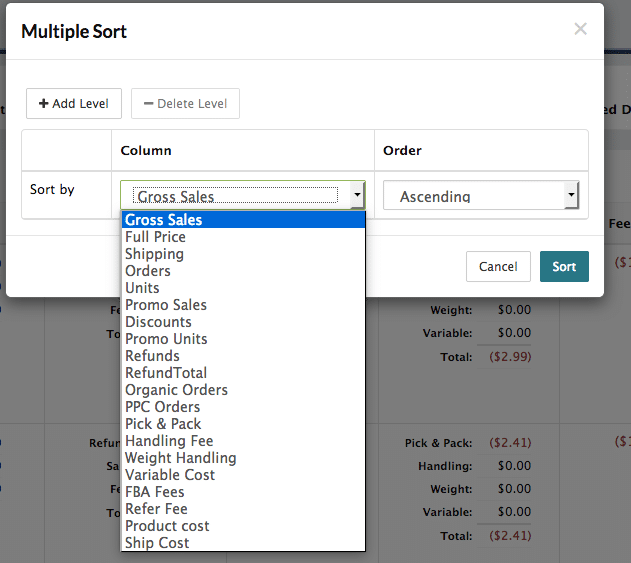 1.3. Optimized Smart Search
There's a 'Smart Search' function in nearly every section in HelloProfit: the Product Dashboard, Product Stats, Customer List, Keywords List … and more!

The Smart Search allows you to switch between Merchant Accounts and filter for a wide range of details, letting you drill down on specific ASINs, time frames, cost ranges, etc.
Also in the Product Stats section, the Smart Search has been tightened up, allowing you to filter through your data faster tha before. You can better drill down on your product statistics by:
Filtering for custom range of product unit cost
Filter by ASIN, Parent ASIN, SKU and custom group*
Save your search settings to view later
*Visit our Knowledge Base article for more information: How to Create a Custom Group of Products & View Their Statistics
You can use Smart Search to help you drill down on a wide range of details. Some examples of how you can make the most of this feature will be shared in upcoming blog posts.
2. Drill Down on Your Customer List
Making the most out of your customers is paramount to good business practice.
On average, repeat customers are responsible for generating 40% of an online store's revenue (according to this source). They're also easier to sell to, having higher conversion rates and spending more per purchase than first-time customers. Apparently, building trust and a good customer relationship is the most profitable aspect of marketing!
And here's how HelloProfit helps you maximize the potential of your customer list:
2.1. Search for Repeat Customers
Thanks to our recent updates, you can now search for repeat customers even faster than before. You can further filter by purchase date, which promotional coupon code has been used and which city/state the customer lives in. That kind of precise information is hugely beneficial for running Facebook ads targeting customers in a certain geographical area, for example, or for targeting ads to repeat customers.
You can also use the Smart Search to find customers who have:
Asked for a refund
Returned / not returned product
For whose return you've been reimbursed
It's that easy to drill down on your returns and reimbursements!
2.2. Search for Repeat Offenders –er, Refunders
Now, there's a column in your Customer List showing refunds. It's easier than ever to identify repeat refunders and take action if necessary.
Plus, you can easily check whether you've received adequate reimbursement for all the refunds Amazon owes you. Simply filter the refunds, returns and reimbursements listed in your Customer List and compare that to the actual refunds listed in your Amazon Payout Report.
The screenshot below highlights where this information can be found in your Payout Report.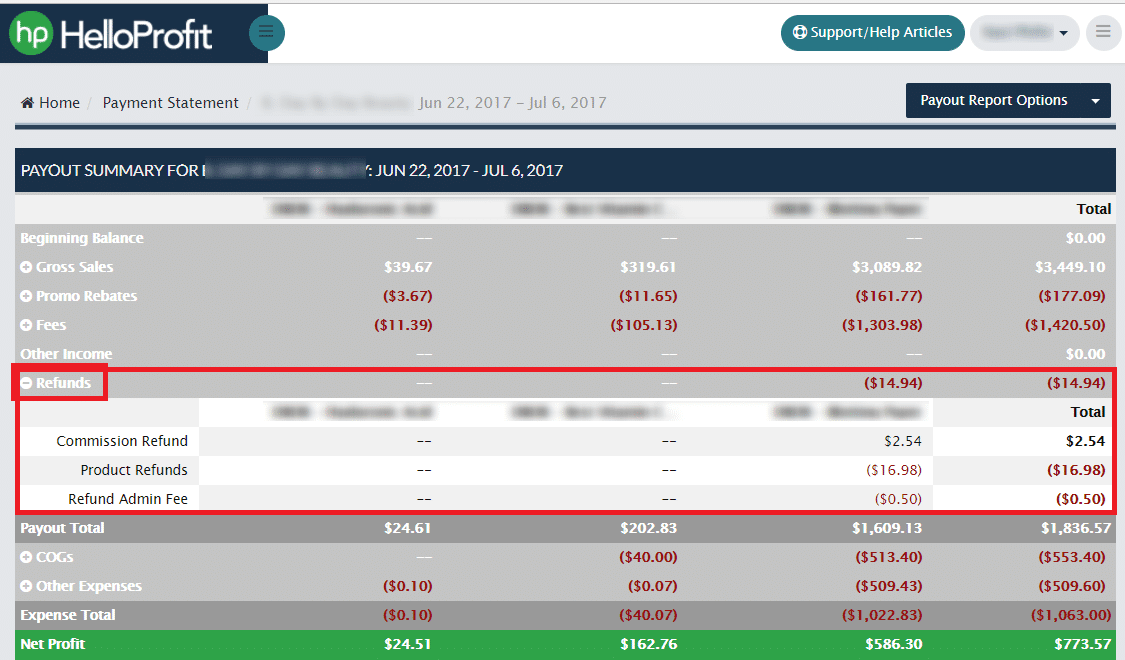 2.3. Optimized Smart Search for Drilling Down in More Detail
The Smart Search for your Customer List has also been optimized in this most recent update. Two new fields have been added, so you can more quickly drill down on your VIP customers and filter for the ones who've returned items.

In a future blog post, we'll show you how to use this capability of precision-targeting customers in your off-Amazon marketing efforts. (But for now, we'll stick to our latest updates!)
Sort Multiple Columns Simultaneously
Also in your Customer List you're now able to sort multiple columns at the same time. This lets you gain insight on your customers in even more detail than before.
3. Faster Computation & More Accurate Storage
At least among developers, it's notoriously well-known how much of a beast Amazon's API can be. Gems of useful information can be hidden away in odd places, and sometimes data is even sent incorrectly.
We've addressed these issues in our most recent update, making sure that your dashboards, settlement reports and sales statistics are now more accurate than before.
An added benefit is that we've thrown in a little development magic, so your data is also processed faster than ever. Even if you have dozens of Seller Central accounts connected to your HelloProfit account, your data loads in an instant. Less wait time for for loading — hooray!
Try HelloProfit for 21 Days
You're not already a member?
Try HelloProfit now for three weeks and gain instant access to all features and powerful functions: Amazon Payout Reports, downloading your Customer Lists and Orders Lists, viewing the overview of your Merchant Dashboard and drilling down into the details of each ASIN in your Product Dashboard. Start Your 21-Day $1 Trial!